Arts and Crafts Collection
of
Custom Finished or Ready to Finish Drawer Fronts
---
Great looking custom drawer fronts to match our cabinet doors in Arts and Crafts - Craftsman or Mission style, unfinished or finished with state of the art equipment, by one of the premiere cabinet door companies in the USA!
Each drawer front is custom built to your specifications. Our Arts & Crafts cabinet drawer fronts are built to the nearest 1/16" with a tolerance of +/- 1/32".
Lead time: 15-17 work days, excluding date of order
(All lead times are subject to variations in workload)
Start by viewing and selecting your options below and choosing your optional finish, then just use the menus above to select those options and click on the "add to cart" button to see the final price of your door.
We are here to answer your questions!
Call us Monday - Friday 8:00am to 5:00pm (ct)
---

Choose Your Arts & Crafts Drawer Front

(Shown with matching doors which are sold separately)
The "Cottage I"


Shown with Cottage Door

The "Cottage II"


Shown with Berkley Door

Minimum 7½"w x 4½"h
Maximum 48" x 14"
2 ¾" stiles on face
One Walnut pyramid pegs in each stile
Minimum 7½"w x 4½"h
Maximum 48" x 14"
2 ¾" stiles on face
Two Walnut pyramid pegs in each stile

Slab Style


Shown with "Mission I" Door

Slab Style


Shown with "Mission II" Door

Minimum 10"w x 17 ¾"h
2 ¾" Framing
Top Opening Fixed at 6-5/8"
¼" Veneer on mdf panel
Minimum 10"w x 17 ¾"h
2 ¾" Framing
Top Opening Fixed at 6-5/8"
Qty of mullions varies by width

The "Winslow"


Shown with San Raphael Door

Minimum 7-7/8"w x 3-7/8"h
1½" rails - 2¾" stiles
P-057 raise panel shown
*Due to limited access to certain portions of Arts & Crafts doors, there will be areas between the mullions that have some roughness and more stain or glaze residue than typically seen on other finished products. Edges of mullion may also show small amounts of sand through. The appearance of these characteristics will not be considered defective. On finished designs that receive pyramid pegs, the Walnut pegs will be finished in natural unless specified unfinished. The Arts & Crafts Collection is not available painted.

Select Your Door Material and Finish
Click On A Wood Type To See Stain & Glaze Choices
Alder
Alder, Knotty
Birch, White*
Cherry*
Cherry, Rustic
Maple, Hard*
Maple, Hard Rustic
Maple, Soft
Oak, Red*
Oak, Red, Qtr Sawn
Oak, Red, Rustic
Oak, White*
Oak, White, Qtr Sawn
Paint Grade Hard Maple
Hickory*
Hickory, Rustic
Pine, Knotty*
Walnut*
* Premium Grade is available
See the Product Warranty Information
Information about Conestoga product and finishing warranties.
Special note about door sizing:
Allowable tolerances for bow, warp or twist for single panel, multi-panel, frame only and mullion doors are as follows:
Single panel up to 26" wide and 48" tall - 1/8"
Multi-panel up to 26" wide and 48-1/16" to 64-15/16" tall = 1/4"
Multi-panel up to 26" wide and 65" to 83-15/16" tall = 5/16"
Single panel, single opening frame only and mullion doors over 26" wide and 48" tall will not be warranted (mullion lites not to be included in opening count)
Any door exceeding 25-15/16" wide or 83-15/16" high will not be warranted.
Allowable tolerances for contraction, expansion and warpage for one and three piece products are:
Up to 12" wide and 21-15/16" high - 1/8"
12-1/16" to 22" wide or 22" to 43-15/16" high - 1/4"
Any one piece product exceeding 22" wide or 43-15/16" high will not be warranted
All three piece products over 30" wide and 14" high are not warranted
Finishing Notes
When ordering unfinished, doors should be properly prepared prior to applying any finishing products. Be sure to read and understand the instructions provided by your finish manufacturer. You may need to perform additional sanding to prepare your products for finishing.
Cabinet doors are your way to reflect your personal vision on the look and feel of your kitchen. By selecting new cabinet doors for new construction or replacement cabinet doors for remodeling, you will find that your kitchen becomes your personal space in a whole new way. Your custom cabinet doors are available in a great selection of wood species which you will finish with your chosen stain, paint or finish.
If you need sample kitchen doors to try in your home, you may want to buy a full size door which can be used in your project, or you may order any size you prefer.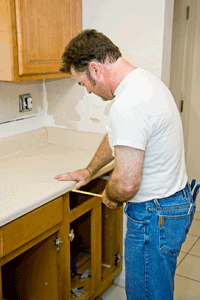 (Click on link or image above for measuring guide)
Special Handling Charges for Oversize Doors
Shipping companies do charge extra for "oversize" pagages or packages that exceed certain lengths or other measurements.
If your product is going to incur additional charges, we will get a shipping quote prior to finalizing your order. The shipping shown on your order may or may not include these "oversize" charges. We will notify you prior to placing your order in production.
FedEx Oversize Packages
Packages that weigh 150 pounds or less and exceed 108 inches in length or 130 inches in girth (2 x width) + (2 x height) are considered "oversize" packages. Oversize packagesare rated based on the greater of the package's actual rounded weight or dimensional weight. In addition, an oversize package surcharge applies.
UPS Oversize Packages
A Large Package Surcharge will be applied to each UPS package when its length plus girth [(2 x width) + (2 x height)] combined exceeds 130 inches, but does not exceed the maximum UPS size of 165 inches. Large Packages are subject to a minimum billable weight of 90 pounds in addition to the Large Package Surcharge.
If you have any specific questions, let us know or refer directly to the carrier websites for more information.