Starboard ST Exterior Cabinet Doors
Just the answer for patios/outdoor kitchens and for marine use
The newest outdoor material, that all builders and designers need to know about, Polyethylene, a marine-grade polymer (HDPE), well-known for its regular use in the boating and pool industries. This sturdy material provides UV resistance and a high degree of durability, making it ideal for commercial and medical applications, as well as residential use.

Brutal sun and rain are no match for Polyethylene doors and drawer fronts, and there's no need to worry about fading, yellowing, staining or panel warping. We now offer Polyethylene door and drawer fronts. Choose from White, Black, Dolphin Grey and Seafoam.
---
Specifications/Features:

Polyethylene 3/4" thick doors are primarily intended for exterior use, but also function well in commercial, institutional or medical environments. This special, high density polyethylene (HDPE) material is durable, scratch and stain resistant. It also resists fading or discoloration that most other materials experience when exposed to direct sunlight, high temperatures and high humidity conditions for prolonged periods. Our polyethylene doors are tough, and can be cleaned with diluted bleach, Soft Scrub®, alcohol, mineral spirits or even pressure washed without damaging the surface.
---

Select Your Cabinet Door/Drawer Front Style

(Model numbers are listed below style pictures)
Style #222 Raised Panel
6" x 6" minimum w x h
Maximum w x h 47-1/2" x 95-1/2"
Slab Style
5-1/2" x 6" minimum w x h
Maximum w x h 47-1/2" x 95-1/2"
Style #223 Grooved Panel
5-1/2" x 6" minimum w x h
Maximum w x h 47-1/2" x 95-1/2"
---

Select Your Color
Click on color image below for larger image
White
Seafoam (Off White)
Black
Dolphin Grey
---

Choose Your Framing Edge
(For all drawer front styles)
B-2*
Hinge boring okay
CFP-2*
Hinge boring okay
H-2*
Hinge boring okay
L-281*
Hinge boring okay
L-803*
Hinge boring okay
LC-2*
Hinge boring okay
Machine Edge*
Hinge boring okay
PRS-2*
Hinge boring okay
V-2
No hinge boring
---

Hinge Boring Options
If you intend to use a concealed European style hinge, here are your boring options. We normally recommend a compact style hinge if you have "Face Frame" style cabinets. If you have any questions, just give us a call.
Doors 9" to 42" receive two bores
Doors 42-1/16" to 72" receive three bores
Doors 72-1/16" and longer receive four bores with center holes set 25" in from each end.
Bore hole is 35mm diameter, 13.5mm deep and the insert holes are 8mm diameter and 11.9mm deep
Custom boring is not available with the Polyethylene doors
For Face Frame Cabinets Using Compact Hinges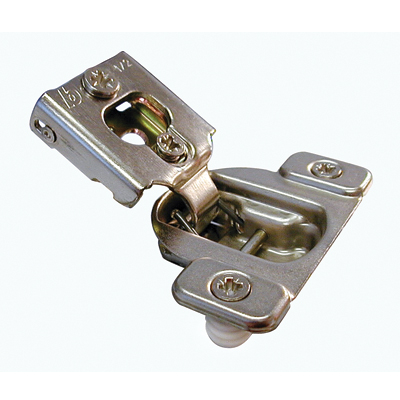 Compact Style Hinge for "A" boring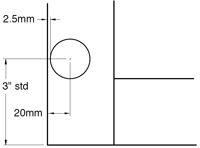 Compact hinge bore without dowel inserts

Select ("A" without)
Placement is 3" to center from top and bottom of door
For Face Frame Cabinets Using Long Arm Hinges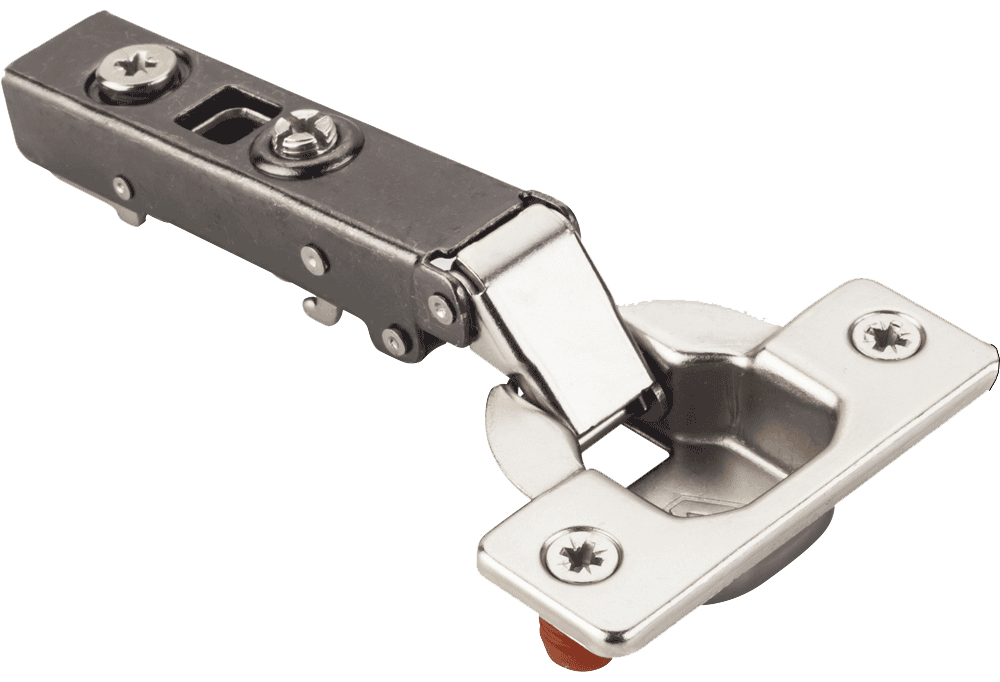 Long Arm Style Hinge for "B" boring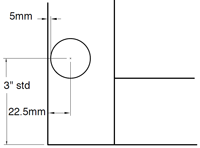 Long Arm hinge bore without dowel inserts
Select ("B" without)
Placement is 3" to center from top and bottom of door