Cabinet News
News You Can Use For Your Cabinet Designs
Synchronicity High Gloss Cabinet Door Program
Featuring 21 color selections, the Synchronicity high gloss offering provides three distinct material selections at multiple price points. Utilizing high quality European films, the Synchronicity program provides superior depth and clarity with some of the premier gloss materials in the country.

PET or polyethylene terephthalate is part of the polyester chemical family. This 90% gloss film is extremely durable as well as being resistant to heat and color change. The PET offering consists of a single white film, aggressively priced at only $19.85 per ft. for a 3.0 sq. ft. door.

UV Lacquer consists of 15 attractive colors, patterns and wood grains. These 18mm thick panels have a 90% gloss level on the face and a matching color matte finish on the back. The color fast panels offer resistance to scratching and heat. List pricing is less than $25.00 per ft. for a 3.0 sq. ft. door.

PET-G has similar aesthetic characteristics to glass. PET-G or polyethylene terephthalate glycol offers excellent depth, transparency and durability. These 95% gloss level films are superior to many high gloss panels and are 100% recyclable. List prices are under $26.00 per ft. for a 3.0 sq. ft. door. These are brand new and you can contact Sales at the phone number at the top of this webpage for ordering information.

All Synchronicity high gloss doors and drawer fronts are banded with matching ABS gloss edgeband. Complementary items include PSA veneers for PET and PET-G colors, full size and cut to size panels and rolls of matching high gloss ABS edgeband. Sample kits containing all 21 colors are also available.
---
Pet Bowl Cabinet Options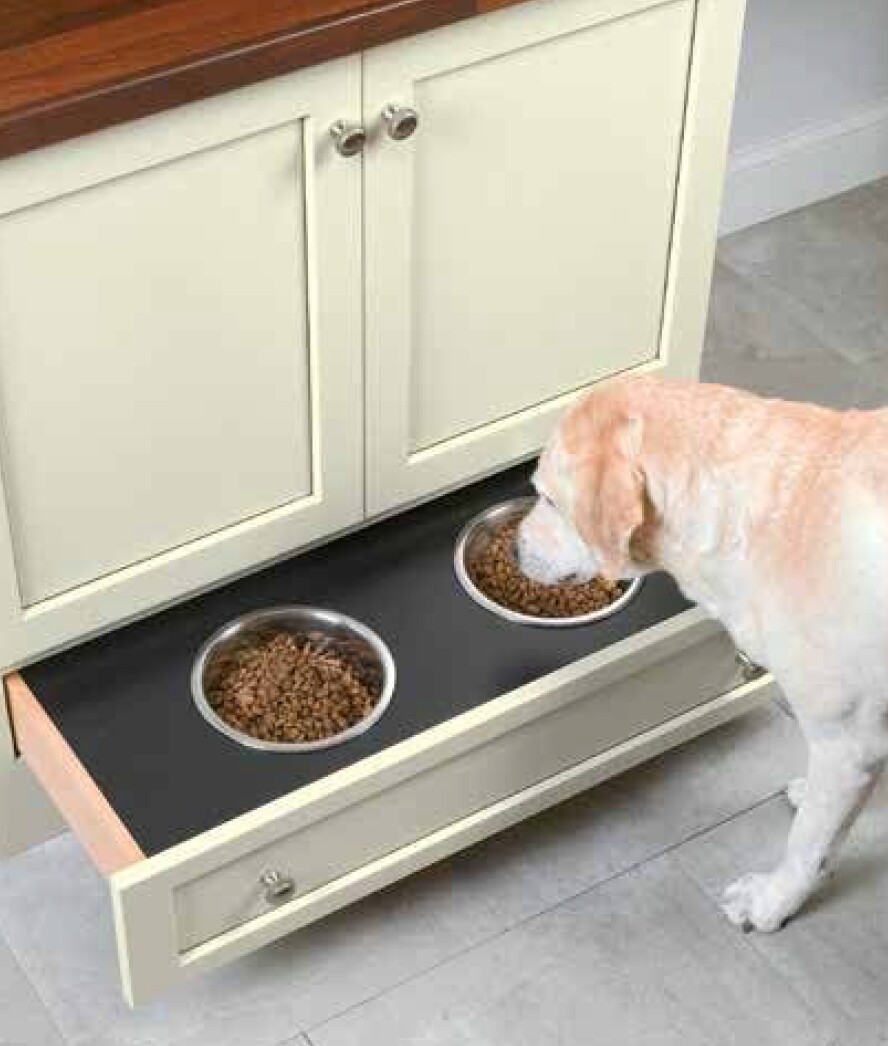 Many pet owners regard their pets as true family members, so it's not surprising that kitchen designers frequently incorporate pet oriented items into cabinetry and other living spaces. We continue to expand our options for pets, developing accessories with our four legged friends in mind. Our newest pet bowl insert option is constructed using 3/4" thick Polyethylene material with 5 color options. Suspended inside the drawer box by support pins the insert accommodates three different diameter food bowls including small (5" diameter), medium (6-1/2" diameter) and large (7-3/8" diameter) bowls that are commonly available in many pet supply stores. Spills are contained by a 1/2" routed groove around the perimeter of the insert.

Pet Bowl Inserts are sized to fit the interior opening of drawer boxes ranging from 15" to 36" wide and 18" to 24" deep, allowing the drawer to be opened at meal time, then closed to keep food dishes out of sight. Complete Pet Insert ordering information can be found here.