Custom Stained Valances
Item # 26788
---
Please Choose Or
Scroll Down For More Info

:
---
Starting at: $41.75 / Each
---
Custom finished wood valance
Finished with your choice of stains and glazes
Your valance can be shipped finished, ready to install in just 15-16 work days

Custom stain matching service is available, just contact Customer Service

Your price will be calculated based on option selections and size
The illustrations below represent typical valances.
Finished valances are sanded and finished with color coats and conversion varnish topcoat. (see finishing specifications for details)
Our valances can also be shipped unfinished or you can choose from a wide variety of stain and glaze colors.
---

Choose your valance design
Classic Arch
Elegant Arch
Roman Arch
Straight
Traditional Arch

Review Sizing Chart

(Click to open in new window)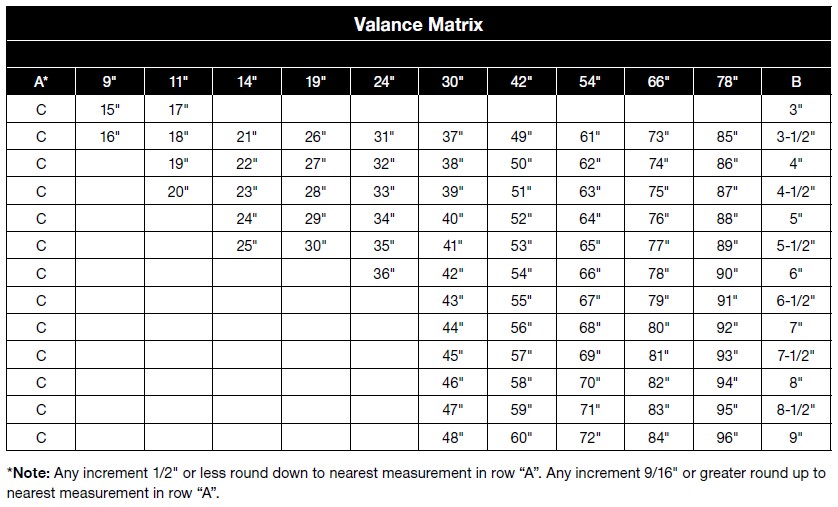 (Click to open in new window)
Instructions for Sizing Valance Arch
Review the chart picture above and you will use both the "A" dimension and the "C" dimension to size your valance. The height is fixed at 6" on all of these valances and the chart above shows the reveal of the valance from the top of the valance to the top of the arch (2 1/2" or 3", depending on style). The "B" dimension will be the difference between the overall length (C) minus the length of the arch (A) divided by 2.
It is recommended that you find the length of the arch that you want by going across the "A" row until you come to the length of the arch that comes closest to your design dimensions.
Go down the "C" Rows until you get to the overall length that you want for the valance. This may be longer than your opening so that you can trim the ends to length.
Example #1: There is a space of 50" and if you look across and find the 50" width in the "C" rows, you will see that this will produce an arch of 42" by going straight up to the "A" Arch length line. So, if you subtract the 42" from the 50" your difference is 8". Divide the 8" by 2 and each "B" dimension will be 4".
Example #2: There is a space of 50" and you want a valance with an arch that will cover as much of that space as possible. Go across the "A" row to find the Arch length that is closest without exceeding your space. In this case it is 42". Now, go straight down to the "C" row to the lengths that are available for that length arch. In this case, the minimum is 49" and the maximum is 60".

Select Your Door Material and Finish
Click On A Wood Type To See Stain & Glaze Choices
Alder
Birch, White*
Cherry*
Maple, Hard*
Oak, Red*
Oak, Red, Qtr Sawn
Oak, White*
Oak, White, Qtr Sawn
Paint Grade Hard Maple
Hickory*
Pine, Knotty*
Walnut*
* Premium Grade is available
See the

Select An Optional Glaze Color

² indicates a premium edge which will result in additional charge per door, if available
Edges displayed above are computer generated to represent the actual product as closely as possible but may not be exact. If you are seeking an exact match, contact us for a sample.
Information about Conestoga product and finishing warranties.
Finishing Notes
When ordering unfinished, doors should be properly prepared prior to applying any finishing products. Be sure to read and understand the instructions provided by your finish manufacturer. You may need to perform additional sanding to prepare your products for finishing.
Cabinet doors are your way to reflect your personal vision on the look and feel of your kitchen. By selecting new cabinet doors for new construction or replacement cabinet doors for remodeling, you will find that your kitchen becomes your personal space in a whole new way. Your custom cabinet doors are available in a great selection of wood species which you will finish with your chosen stain, paint or finish.
If you need sample kitchen doors to try in your home, you may want to buy a full size door which can be used in your project, or you may order any size you prefer.

(Click on link or image above for measuring guide)