Enjoy the beauty of Cal-Wrap® Rigid Thermal Foil cabinet doors and drawer fronts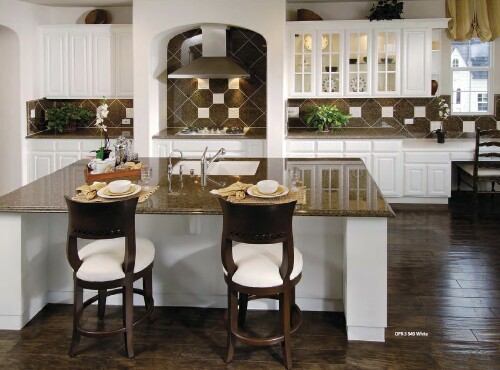 The true beauty of rigid thermal foil doors lies in, not only the styling and quality of the doors, but the ease of maintenance. These RTF doors clean easily with soap and water, will not chip or peel like paint, are highly scratch resistant and colors will not fade. What could be easier?





Cal Door has set a new standard in rigid thermal foil with the latest up-to-the-minute computerized technology. Additionally, our MDF2 doors and drawer fronts are machined from the highest grade material which far exceeds the industry standard, giving durability, quality and a magnificent kitchen for even the most discriminating tastes.

Lasts longer and colors will not fade
Scratch and dent resistant
Cal-Wrap rigid thermal foil cleans easily with just soap and water
Will not chip or peel like paint
How to price your CalDoor Rigid Thermal Foil Doors
(Doors are priced by the square foot)
Choose your door style from the images below
Choose your color or pattern from the swatches below
Select your chosen style from the pulldown menu above.
This will show your price per sq ft for the chosen style.
Select your chosen color or pattern from the pulldown menu above.
Be sure to choose from only one color group.
Add the style cost plus the color cost (base style price includes color group 1).
This will be your cost per square foot.
Door Style or Name
Stile/Rail Size
Min W x H

Umpqua in Gloss Birdseye Maple

Dakota in Select Cherry
N/A
4-3/4" x 4-3/4"

European in Almond
2-1/4" Stiles, 2" Rails
6" x 4"

Hopi Diamond in Manitoba Maple

Hopi Square in Solar Oak
2-1/2"
2-1/2"
9-1/2" x 9-1/2"
6-1/2" x 6-1/2"

OP-709 in Cherry Pearwood
N/A
6-1/2" x 6-1/2"

OP-771 in Sakura Cherry

OP-772 Liberty in Windsor Mahogany

OP-773 in Wild Apple Light
N/A
6-1/2" x 6-1/2"
7" x 7"
7" x 7"

OPR-1 in Natural Maple

OPJ-1 in Summer Flame

OPL-1 in English Oak
2-1/4"
7" x 7"
8" x 8"
12" x 12"

OPR-2 in African Walnut
2-1/4"
7" x 7"

OPR-3 in Anigre w/Solid Drawer Front

OPJ-3 in Manitoba Maple w/OPD-3 Front

OPL-3 in Windsor Mahogany
2-1/4"
7" x 7"
8" x 8"
12" x 12"

OPSH in Natural Pear
2-1/4"
6-1/2" x 6-1/2"

Plank in Fashion Grey

Plank in Fashion Grey w/Optional
Radiussed Corners
N/A
3" x 3"
4" x 4"

Rogue Juiliano in Chocolate Pear

Rogue Liberty in Summer Flame

Rogue Square in Backwoods
Sycamore
2-1/2"
8" x 8"
8" x 8"
7-3/4" x 7-3/4"

Tulalip Juiliano in African Walnut

Tulalip Liberty in Knotty Pine

Tulalip Square in Natural Maple
2-1/4"
8" x 8"
8" x 8"
7" x 7"
Group 1 Colors*

949 White

Antique White

Almond

Fashion Grey

Mission White

Wood Grain White
Group 2 Colors*

African Walnut

Anigre

Backwoods Sycamore

Chocolate Pear

English Oak

Island Bamboo

Knotty Pine

Manitoba Maple

Natural Maple

Natural Pear

Sakura Cherry

Solar Oak

Summer Flame

Tawney Port

Wenge w/Pores

White Wash Maple

Wild Apple

Wild Cherry-reno

Wild Cherry-ssi

Wilson Cherry

Windsor Mahogany
Group 3 Colors*

Antique White High Gloss

Black

Brushed Steel

Natural Birdseye Maple High Gloss

White High Gloss

Zebrawood
*All samples are representative of colors or patterns and may vary. Request samples if unsure.
Special Charges and Information

All prices are per square foot, figured to the nearest 1-100th of an inch. Minimum 1 square foot
Doors are manufactured to the nearest 1/16th inch
MDF material is 3/4" thick. Group 3 uses 7/8" thick.
Standard white backer for all doors in all color groups

Boring for concealed hinges- 35mm cup or cup and dowel available. Standard placement is 3" on center.
Doors over 22" wide or over 48" high or drawer fronts over 22" wide or 10" high are not guaranteed. No guarantee on High Gloss doors over 22" wide or over 42" high.
Special Handling Charges for Oversize Products
Shipping companies do charge extra for "oversize" packages or packages that exceed certain lengths or other measurements.
If your product is going to incur additional charges, we will get a shipping quote prior to finalizing your order. The shipping shown on your order may or may not include these "oversize" charges. We will notify you prior to placing your order in production.
FedEx Oversize Packages
Packages that weigh 150 pounds or less and exceed 108 inches in length or 130 inches in girth (2 x width) + (2 x height) are considered "oversize" packages. Oversize packages are rated based on the greater of the package's actual rounded weight or dimensional weight. All oversize packages will have a minimum billable weight of 90 pounds in addition to any oversize package surcharge(s). As of 2020, this surcharge will be $120 per oversize package.
Fedex Peak Oversize Package Surcharge
During peak shipping season (10/21/19 until 1/5/2020), any package shipped during this period will incur an additional "Peak Oversize" charge of $37.50 per oversize package.
UPS Oversize Packages
A Large Package Surcharge will be applied to each UPS package when its length plus girth [(2 x width) + (2 x height)] combined exceeds 130 inches, but does not exceed the maximum UPS size of 165 inches. Large Packages are subject to a minimum billable weight of 90 pounds in addition to any oversize package surcharge(s). As of 2020, this surcharge will be $115 per oversize package.
Address Changes for FedEx and UPS
Both FedEx and UPS charge for address changes and corrections. The charge for an address change is a minimum of $16.00 as of 1/1/2019. Please check your shipping address on your order confirmation to insure that it is correct. The Cabinet Guy/QuikDrawers is not responsible for incorrect addresses.
If you have any specific questions, let us know or refer directly to the carrier websites for more information.