Hettich FAQ for Face Frame or Rear Mount Cabinets
Hettich FAQ runners are concealed beneath the drawer so exposed dovetail joinery – a mark of quality drawer construction – is in full, unobstructed view. If the design your cabinet requires that the slide be attached to the rear wall, easy-to-install Hettich FAQ is the ideal runner to complete the inside. The Hettich Silent System self-closing action is an important feature for the homeowner. The drawer easily self-closes softly and gently.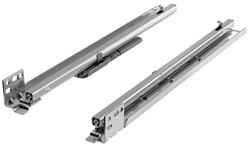 ---
When You Buy
You Save*

5

5%

10

15%

15
25%

*Discounted price will be shown in your shopping cart
Specifications
75lb dynamic, 100 lb. static weight capacity

Full access, 7/8 extension

Zinc plated steel finish

For 1/2", 5/8" and 3/4" thick drawer material

Built-In side to side adjustment with right hand slide (4mm)

Integrated damping device closes the drawer softly and quietly

Easy drawer removal with front fixing clips (locking devices)

System self-cleans. Any dirt is simply swept aside by the steel balls as they traverse along the track
Required Clearances:
9"

Drawer requires 11" to 11-1/2" Interior Depth

12" Drawer requires 14" to 14-1/2" Interior Depth

15" Drawer requires 17" to 17-1/2" Interior Depth

18" Drawer requires 20" to 20-1/2" Interior Depth

21" Drawer requires 23" to 23-1/2" Interior Depth
Required Accessories
Front fixing clip (locking device), (Sold seperately Here)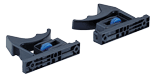 Choose locking device based on thickness of drawer box material
HT9140416 for 1/2" thick drawer box material
HT9140413 for 5/8" thick drawer box material
HT9140418 for 3/4" thick drawer box material
Locking devices are priced per pair
Rear mounting brackets Sold Seperately (1 Piece Plastic Click Here), (2-Piece Metal Click Here).
| | |
| --- | --- |
| 1 Piece Plastic | 2-Piece Metal |
| | |
1 piece plastic self adjusting (screw on)
2 piece metal bracket
Brackets are priced per pair
---
Sold per pair
Model #HT1135xxx