Impresa Cabinet Doors
Pricing is based on door style, selected options and square footage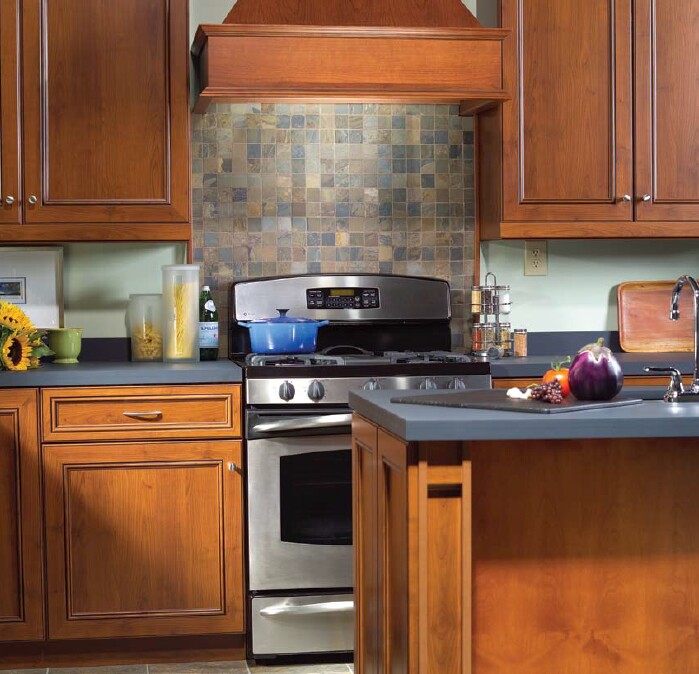 The Impresa collection delivers product quality and visual attractiveness, all at an affordable price. Impresa offers five distinct doors and drawer front designs, each with its own unique glazed highlights. Testing has earned Conestoga's DLV program certification from the Kitchen Cabinet Manufacturers Association.
| | |
| --- | --- |
| | Five-piece construction provides the overall look of finished wood doors, but at a 40% cost savings! Impresa DLV products are the perfect solution for those customers looking to design and build custom kitchens, baths, closets, laundry rooms, garages and more. |
| | Because the substrate used to make Impresa products is man made material, it's far more stable than solid wood with almost no expansion or contraction. This makes Impresa the perfect solution for high humidity interior climates. |
| | Delamination issues are a thing of the past with Impresa DLV products. Tested to over 200 degrees Fahrenheit, Impresa products showed no signs of delamination that can easily occur with RTF products. |
| | Impresa DLV materials are less susceptible to harmful ultra violet rays that can cause colors to fade. Under normal lighting conditions DLV products will change very little in color or tone. |
| | Impresa offers a full selection of products to accent nearly any room design. Crown and trim mouldings, fillers, veneer end skins, PVC edgeband and cut-to-size 5/16" matching panels are all part of the Impresa program. |
| | Frame only and mullion doors are available in all five door designs. Mullion configurations are available in standard divided lites and 9-lite offsets. Hinge boring for concealed hinges is available and doors and drawer fronts can be ordered with either vertical or horizontal grain center panels. |
| | For a period of 1 year from the date of shipment, Impresa products will be reasonably free of defects in materials and workmanship. When properly handled, Impresa products will conform, within acceptable tolerances to applicable manufacturing specifications. This limited warranty applies only to those Impresa products which are stored, handled and installed in the manner consistent with Conestoga's wood components. Conestoga will not be responsible or liable for any indirect, consequential or incidental damages or costs sustained by the user. |
| | Impresa DLV products should be cleaned using a mild non-abrasive detergent and damp sponge or cloth. Avoid using abrasive cleaners, brushes, rags or cloths and never saturate DLV products with water or other liquids. |
More Information about the Impresa Collection
---
Impresa Door Designs
Carrara
Cortina
Murano
7/8" thick 2-3/4" Frame width
6-1/2" x 7" Minimum w x h
36" x 89-3/4" Maximum w x h
3/4" thick 2-7/8" Frame width
6-3/4" x 7" Minimum w x h
36" x 89-3/4" Maximum w x h
7/8" thick 2-3/4" Frame width
6-1/2" x 7" Minimum w x h
36" x 89-3/4" Maximum w x h
Parma
San Marino
7/8" thick 3-1/8" Frame width
7-1/4" x 7-1/4" Minimum w x h
36" x 89-3/4" Maximum w x h
7/8" thick 3-1/8" Frame width
7-1/4" x 7-1/4" Minimum w x h
36" x 89-3/4" Maximum w x h
Hinge Boring Options
If you intend to use a concealed European style hinge, here are your boring options. We normally recommend a compact style hinge if you have "Face Frame" style cabinets. If you have any questions, just give us a call.
Doors 9" to 42" receive two bores
Doors 42-1/16" to 72" receive three bores
Doors 72-1/16" and longer receive four bores with center holes set 25" in from each end.
Bore hole is 35mm diameter, 13.5mm deep and the insert holes are 8mm diameter and 11.9mm deep
Custom boring is available at additional cost per door (contact customer service)
For Face Frame Cabinets Using Compact Hinges

Compact hinge bore with dowel inserts
Select ("A" with)
Placement is 3" to center from top and bottom of door

Compact hinge bore without dowel inserts
Select ("A" without)
Placement is 3" to center from top and bottom of door
For Face Frame Cabinets Using Long Arm Hinges
Long Arm hinge bore with dowel inserts
Select ("B" with)
Placement is 3" to center from top and bottom of door
Long Arm hinge bore without dowel inserts
Select ("B" without)
Placement is 3" to center from top and bottom of door
For Frameless Cabinets Using Long Arm Hinges
Long arm hinge bore pattern with dowel inserts
Select ("C" with)
Placement is 3-3/4" to center from top and bottom of door
Long arm hinge bore pattern without dowel inserts
Select ("C" without)
Placement is 3-3/4" to center from top and bottom of door
Lead time for doors and drawer fronts is 7 work days