Single Shelf Lazy Susan
Item # 14699
---
Please Choose Or
Scroll Down For More Info

:
---
Starting at: $136.93 / Each
---
Single Shelf Wood Lazy Susan
This is perfect for cabinets with preinstalled shelves - no mounting pole is needed!
Convert your corner cabinet into shelves that spin with this round or kidney birch Lazy Susan shelf with steel bearing swivel. The kidney-shaped Lazy Susan's swivel has a positive stop, so the cutout stops at the door opening. The Lazy Susan shelf is made from strong 5/8" birch plywood with a 1" inside height, solid birch finger-jointed rim, all with a clear UV finish. Designed to be installed on corner cabinet bottom or cabinet shelf. Easily installs with just four screws which are included. On base cabinets, you may have limited access if counters are already installed, so best to install before the counter installation. Our finger-jointed rim wood series is our highest quality offering in wood Lazy Susans.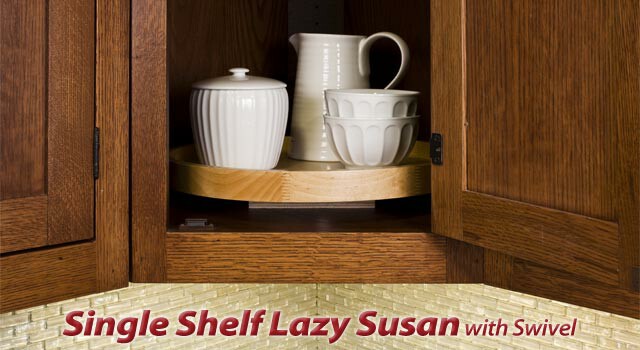 Round Lazy Susan With Swivel

18", 24" or 28" Diameter Round Wooden Lazy Susan

5/8" thick maple plywood base

1-5/8" tall fingerjointed solid birch rim with UV finish

High quality cast aluminum swivel with solid steel bearings, preinstalled

360° swivel

Round swivel is nonstop for smooth operation

Easy, quick installation, 4 screws included

LSR18.S - 18" Round Lazy Susan
LSR24.S - 24" Round Lazy Susan
LSR28.S - 28" Round Lazy Susan


Kidney Shape Lazy Susan With Swivel

28" or 32" Diameter Kidney Lazy Susan

5/8" thick maple plywood base

1-5/8" tall fingerjointed solid birch rim with UV finish

High quality cast aluminum swivel with solid steel bearings, preinstalled

360° swivel

Kidney shaped swivel has positive stop

Easy, quick installation, 4 screws included

LSK28.S - 28" Kidney Shape Lazy Susan
LSK32.S - 32" Kidney Shape Lazy Susan