"NO WIGGLE" SOFT-CLOSE TRAY DIVIDER PULLOUT
Item # 28224
---
Please Choose Or
Scroll Down For More Info

:
---
Starting at: $371.12 / Each
---
"NO WIGGLE" SOFT-CLOSE TRAY DIVIDER PULLOUT
The smartest way to store baking trays and platters!!
The "No Wiggle" tray divider pullout is designed, specifically for 6" & 9" base cabinet openings, to store your bakeware all while being easily accessible. No more digging overhead for the correct pan; this system allows you to pull all the items out and easily see your contents. Removable center rack and adjustable dividing bars allow for customizing the space to best fit your items. Non-stick mat on the bottom of the pullout prevents access movement of trays and reduces noise. Patented hardware eliminates side-to-side movement and sag commonly seen in other pullouts. Slides are pre-installed for quick and easy installation. Height allows for installation in either full-door application or under a drawer.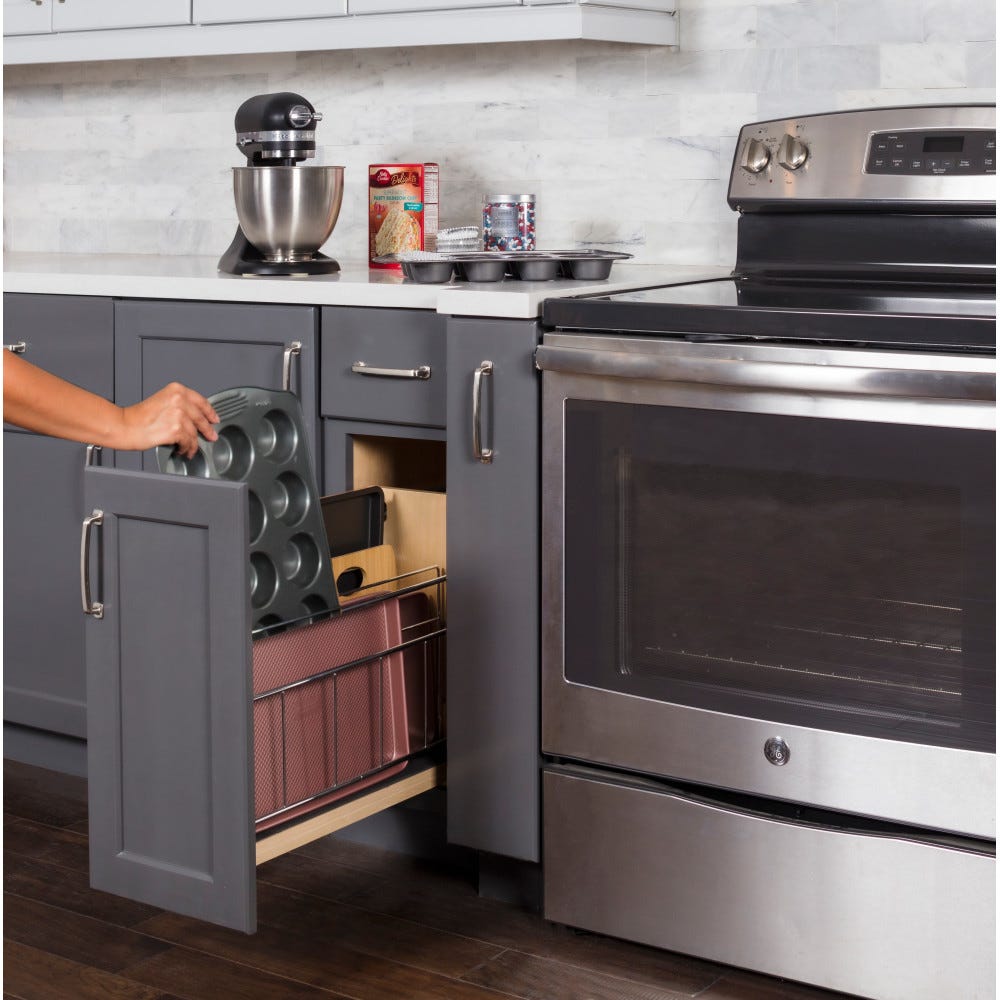 5" Model For 6" Opening
8" Model For 9" Opening
Your "No Wiggle" Tray Divider Pullout Reference Guide

Slides are pre-installed for quick and easy installation
Removable center rack and adjustable dividing bars allows for easy and versatile customization of storage needs
Non-slip bottom mat keeps items secure and minimizes noise
Smooth action Soft-Close Slides
Patented integrated 6-way adjustable door-mounting brackets allow for easy and precise door mounting
Frameless friendly! Works in both face frame and frameless applications
100 lbs. weight capacity

Pullout Size
Minimum Cabinet Opening Width
Actual Pullout Width(w) by Depth(d) by Height(h)
Model #
5"
5-1/2"
5"(w) X 22 1/4"(d) X 17 9/16"(h)
BPOTD2-5SC
8"
8-1/2"
8"(w) X 22 1/4"(d) X 17 9/16"(h)
BPOTD2-8SC
Sold Each