Custom Painted Drawer Fronts In Colors Only Imagined
Choose from over 1,500 brilliant colors
Top-coated in a conversion varnish for a durable finish

Design your Cabinet Doors

(Model numbers are listed below style pictures)
Raised or Flat Style


7½" x 5-7/8" minimum w x h
1½" rails & 2-5/16" stiles
Slant raise shown

7" x 3-3/8" minimum w x h
1½" rails & 2-5/16" stiles
¼" Veneered Panel

3½" x 6" minimum w x h
66½" x 29" Maximum w x h
(horizontal grain)
Machine edge shown
CRP10 Front
TW10 Front
Slab Front

3" x 3" minimum w x h
Matches Slant raise

2-3/4" x 2-3/4" minimum w x h
Matches G-Cove raise
#10
Keystone

Shaker Style


7" x 3-7/8" minimum w x h
1½" rails & 2-5/16" stiles
3/8" P-057 raise shown

7" x 3-7/8" minimum w x h
1½" rails & 2-5/16" stiles
3/8" Reverse G-Cove raise shown

7" x 3-3/8" minimum w x h
1½" rails & 2-5/16" stiles
¼" Veneered Panel
Albany Front
Sheldon Front
Stockbridge Front
Great looking custom drawer fronts, finished with state of the art equipment, at prices that will make you smile! Turnaround time on finished drawer fronts is 13-15 work days and may vary by workload.
Drawer fronts have a minimum size charge of 1 square foot.
Don't forget, we are standing by to help you!
Just call us Monday - Friday 8:00am to 5:00pm or Friday until 5:00pm (Central)

Choose Your Drawer Front Material
Paint Grade
(mix of soft maple, hard maple and white birch)

Choose Your Finish Colors
Prism paint colors encompass nearly 1,100 colors which can be found in the Prism Paint Color Fan Deck. The vast majority of these colors are found on the Sherwin-Williams color charts, since Sherwin-Williams is the provider for the Prism Paint colors. You can also view the Sherwin-Williams online color selections here, then just give us a call to verify that the color is in the Prism Paint collection.
Just give us a call toll-free at 866-937-7429 (Mon-Fri, 8am until 4pm, central), with your Sherwin-Williams color number and we will verify availability. You can also order the fan deck with all of these beautiful colors, here.
Prism Paints will absolutely "WOW" you

A spectrum of color can is at your fingertips with the Prism Paint program from QuikDrawers and Conestoga Wood Specialties. With over 1,000 colors to choose from, Prism Paints offer the colors you need to make your next kitchen project truly unique. Whether your finish is traditional or something out of the ordinary, why not let QuikDrawers and Conestoga finish your next painted project?

Quality, variety and dependability - it's what you expect from Conestoga's premium finishes and the Prism Paint program is no exception.

In addition to a complete range of wood components, the Prism Paints feature:

Conversion varnish topcoats, one of the most durable in the industry
Available with paint grade hard maple, MDF and hybrid substrates
Loose paints that can be purchased in one and five gallon increments
A comprehensive fan deck, showing samples of the nearly 1,100 colors
A one-year limited warranty on both material and workmanship

Sample swatches are not available. A sample door must be ordered to obtain a finished sample of the Prism Paint colors.

We suggest the purchase of a door size that can be used in your project.

Choose Your Framing Edge
B
No hinge boring
Rabbet 7/16" deep
3/8" high
B-2*
Hinge boring okay
C
No hinge boring
Rabbet 7/16" deep
3/8" high
C-2
No hinge boring
CFP-2*
Hinge boring okay
E-2
No hinge boring

FEP**
Finished End Panel
Rabbet 11/16" deep
3/16" high

FP
No hinge boring
H
No hinge boring
Rabbet 7/16" deep
3/8" high
H-2*
Hinge boring okay
J-2
No hinge boring
L-034*
Hinge boring okay
L-059*
Hinge boring okay
L-061
No hinge boring
L-120
No hinge boring
L-149*
Hinge boring okay
L-253
No hinge boring
5 degree back bevel
L-281*
Hinge boring okay
L-297*²
Hinge boring okay
L-304²
No hinge boring
L-686
No hinge boring
5 degree back bevel
L-772
No hinge boring
L-803*
Hinge boring oka
LC-2*
Hinge boring okay
LC-Inset*²
Hinge boring okay
Machine Edge*
Hinge boring okay
PRS-2*
Hinge boring okay
RC-2
No hinge boring
V-2
No hinge boring
* indicates edge profiles which can be bored for concealed hinges
² indicates a premium edge which will result in additional charge per door
Some edge profiles are NOT recommended for use with Euro, demountable or Inserta style hinges, note hinge boring notes under each profile.
Edges displayed above are computer generated to represent the actual product as closely as possible but may not be exact. If you are seeking an exact match, contact us for a sample.

Choose Your Framing Bead
(for 5 piece drawer fronts only)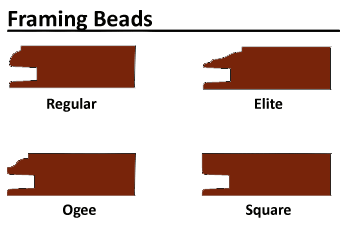 Choose Your Panel Raise Style
(for 5 piece drawer fronts only)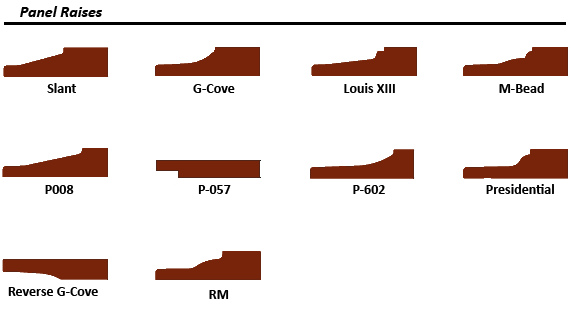 Solid wood panels may be comprised of multiple pieces of wood joined together to achieve the necessary width. Inverted panel IP115 is charged as raised panel plus the additional charge reflected above in the option menus. Doors 45" tall and greater will have a center rail installed (RP120) to help prevent warpage (unless otherwise specified).

Optional Hand or Finger Pulls
Back Side Routed Finger Pulls
(priced per piece)

(Click to enlarge)

Hand Pull Specifications:

Hand pull routs are on the back side of the drawer front and are minimally noticeable from a front view.
Specify location: Bottom left (BL), Bottom Right (BR), Bottom Center (BC), Top Left (TL), Top Right (TR) or Top Center (TC)
Rout is 3-5/8" wide and 3/8" deep. When specified as right or left, the rout begins 3" from the edge of door. Rout is centered on drawer fronts less than 10" wide.
Available with most edge profiles, see exceptions in Edge Profiles
Adds one day to lead time.
Product Warranty Information
Information about Conestoga product and finishing warranties.
Finishing Notes
When ordering unfinished, doors should be properly prepared prior to applying any finishing products. Be sure to read and understand the instructions provided by your finish manufacturer. You may need to perform additional sanding to prepare your products for finishing.
Cabinet doors are your way to reflect your personal vision on the look and feel of your kitchen. By selecting new cabinet doors for new construction or replacement cabinet doors for remodeling, you will find that your kitchen becomes your personal space in a whole new way. Your custom cabinet doors are available in a great selection of wood species which you will finish with your chosen stain, paint or finish.
If you need sample kitchen doors to try in your home, you may want to buy a full size door which can be used in your project, or you may order any size you prefer.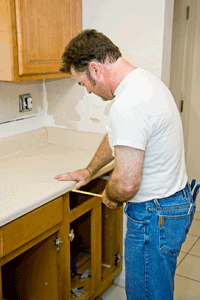 (Click on link or image above for measuring guide)
Special Handling Charges for Oversize Products
Shipping companies do charge extra for "oversize" packages or packages that exceed certain lengths or other measurements.
If your product is going to incur additional charges, we will get a shipping quote prior to finalizing your order. The shipping shown on your order may or may not include these "oversize" charges. We will notify you prior to placing your order in production.
FedEx Oversize Packages
Packages that weigh 150 pounds or less and exceed 108 inches in length or 130 inches in girth (2 x width) + (2 x height) are considered "oversize" packages. Oversize packages are rated based on the greater of the package's actual rounded weight or dimensional weight. All oversize packages will have a minimum billable weight of 90 pounds in addition to any oversize package surcharge(s). As of 2020, this surcharge will be $120 per oversize package.
Fedex Peak Oversize Package Surcharge
During peak shipping season (10/21/19 until 1/5/2020), any package shipped during this period will incur an additional "Peak Oversize" charge of $37.50 per oversize package.
UPS Oversize Packages
A Large Package Surcharge will be applied to each UPS package when its length plus girth [(2 x width) + (2 x height)] combined exceeds 130 inches, but does not exceed the maximum UPS size of 165 inches. Large Packages are subject to a minimum billable weight of 90 pounds in addition to any oversize package surcharge(s). As of 2020, this surcharge will be $115 per oversize package.
Address Changes for FedEx and UPS
Both FedEx and UPS charge for address changes and corrections. The charge for an address change is a minimum of $16.00 as of 1/1/2019. Please check your shipping address on your order confirmation to insure that it is correct. The Cabinet Guy/QuikDrawers is not responsible for incorrect addresses.
If you have any specific questions, let us know or refer directly to the carrier websites for more information.