Shelf Peg w/Screw Hole
Item # 27470
---
Please Choose Or
Scroll Down For More Info

:
---
---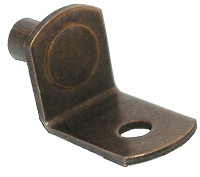 Shelf Pins are "L" shaped with a hole for screw or rubber foot and fit your drilled 5mm holes which are common on shelving, bookcases and cabinets. Suitable for wood, metal and composite shelves.
Use this shelf pin along with a screw through the hole to prevent movement or "tipping" of non-fixed shelving.
Specifications:
5mm pin
Pin length 5/16"
Shelf rest 1/2" wide x 3/4" long
Use hole for screw or rubber cushion
Can be shipped with a lock screw (#6 x 1/2") for securing to wood shelf. Order above
Antique finish only
Minimum purchase 20 pieces
Sold in multiples of 20