Edgebanded Baltic Birch Info
Quikdrawers1/2" Baltic Birch drawer box program designed to address any drawer or pullout/rollout shelf need. These unfinished or pre-finished drawer boxes can be ordered with a variety of options. (If you prefer a solid wood drawer, take a look at our solid wood drawer in 5/8" thick Hard Maple or Birch)
.
How to measure


(Use outside dimensions)

Sizing drawer for use with concealed undermount, soft close slide
Sizing drawer for use with side mounted, full extension, ball bearing slide
Sizing drawer for use with side mounted, partial extension, Euro Style slide
Sizing the Depth For New or Replacement Drawer

(click image to open in new window)
Drawer box and rollout shelf construction
Drawer boxes are constructed with 1/2" thick unfinished or pre-finished furniture grade plywood sides, dovetail joints on all four corners and a standard matching 1/4" thick B-3 grade plywood bottom. 1/2" bottoms are available as an upgrade. All material used is of Standard Grade and will consist of natural birch color. Top edge banding is real Birch wood.
Some companies will tell you that dovetail joints and a UV clear coat finish is not important... That's because they can't offer it, especially at these prices!
All bottoms are recessed 1/2" and all sides have 1/16" eased edges. Drawer boxes are shipped pre-assembled. Notching for undermount slides is available (release clips are not supplied unless ordered with our Vitus Under-mount slide). We strongly recommend a 1/2" thick bottom if your drawer box or rollout shelf is 24" or wider.
Drawer Bottoms Are Inserted Into Dado Groove For Strength
Standard bottom recess on all drawers will allow for use with modern undermount, concealed slides
Dado inset bottom for superior strength and load bearing capacity
---
Every drawer and rollout is branded... your guarantee of quality!
(OEM and trade customers only may request "No Logo")
Assures your warranty
Edge Banded 1/2" Thick Baltic Birch Drawer
---
Drawer Box Ordering Parameters
Minimum
Maximum
Increments
Height
2"
12"
2.5", 3", 4", 5", 6", 7",
8", 9", 10", 11"
Width
4-1/2"
50-15/16"
1/16"
Depth
6-1/2"
50-15/16"
1/16"
Maximum height for rollout and high back rollouts is 11"
Drawer boxes over 36" width or depth will be shipped at higher weights due to dimensional weight rules set by carriers
---
Drawer Box Types
Our Standard drawer box is designed for new construction or replacement of missing or broken drawer boxes.
Our Rollout drawer box is designed for any storage need and with the attractive scoop cut, "galley handle" can be used in stacks and under counter applications.
Our High Back Rollout drawer has feature of both the standard drawer box, rollout drawer box and adds the "High Back" option for applications where you may be concerned about pullout shelving contents tipping over. Regardless of selected rear height, the front will always be 3" high, allowing for easy viewing of the contents.
Standard
*Rollout
**High Back
(see note below)
*Scoop handle is 1" x 5" and is standard with Rollout or High Back Rollout boxes.
**When ordering the high back drawer, the height of the box is the rear "high side" and has a minimum of 6".

The front is 3" regardless of rear height .
Optional Undermount Notching
Optional undermount notching is based on standard manufacturers requirements (1-1/2" wide) and is only available as shown below. (Selecting this option above does not include the slide) We do NOT offer or perform custom notching or boring.
Rear notching for Undermount Concealed Slides (no changes allowed)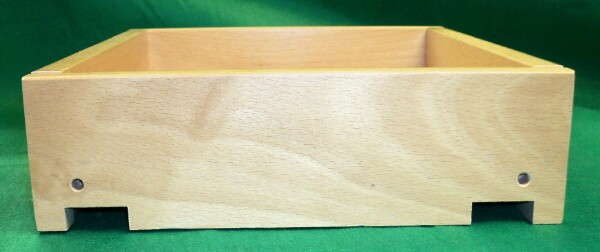 Rear notching Specifications (no alterations)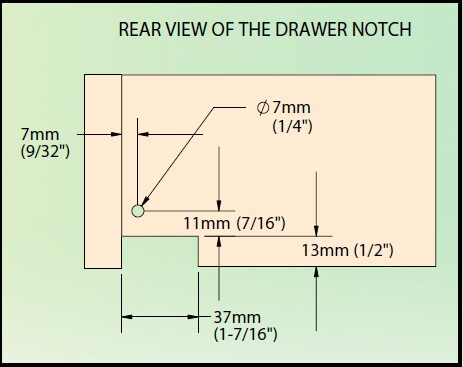 (Click to enlarge)
Our standard drawer box lead time is just 7-10 work days and may be affected by workload and other conditions not under our control. This is not a guarantee of production timeframes.
---
Choosing Drawer Slides for Your Drawer
If you are also changing drawer slides or adding a new drawer and you need some information about choosing drawer slides or how to size your drawer for your drawer slides, click on this link: Choosing drawer slides for your new or replacement drawer box
---
Optional Drawer Front Screws

You may choose to include the optional screws for attaching your drawer front to your drawer. If you do, please read the Drawer Front Screw webpage for important information. We do NOT drill the holes in the drawer for your drawer front screws.
---
QuikDrawers Limited Lifetime Warranty
QuikDrawers Lifetime warranty is for defects in materials and craftsmanship for the original purchaser. This limited lifetime warranty for QuikDrawers custom drawers has specific conditions and exclusions. Please see Warranty Information page for details.
---