Douglas Vanity 24", 30", 48" & 60" Double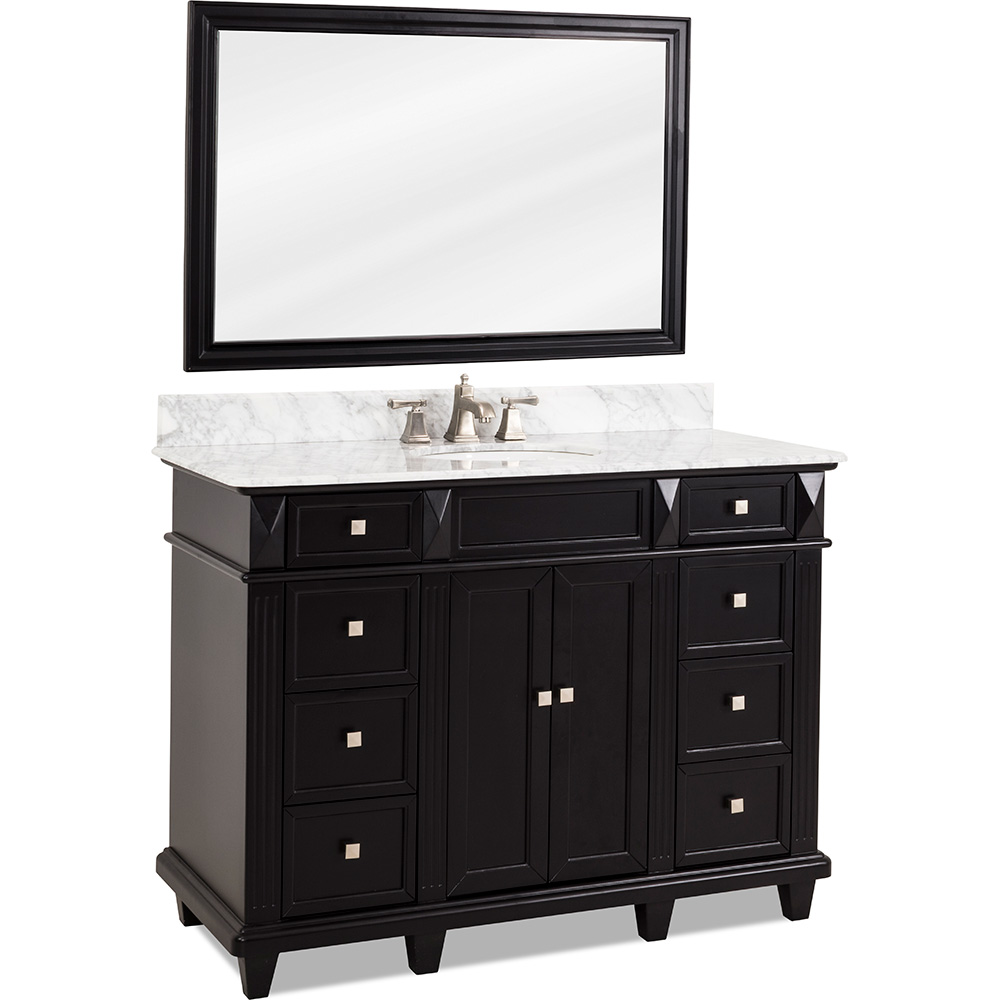 *FREE SHIPPING in continental US
Available in 24", 30", 48" and 60" double sizes
Black or White finish
Large open cabinet with ample storage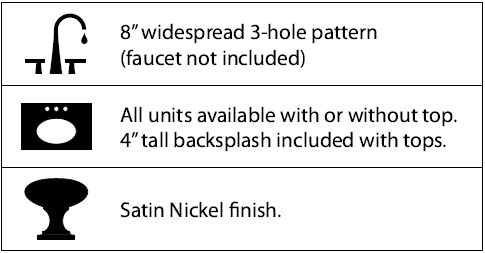 | | | | |
| --- | --- | --- | --- |
| | | | |
| 24" w/mirror in Black finish | 24" w/mirror in White finish | 30" w/mirror in Black finish | 30" w/mirror in White finish |
---
| | | | |
| --- | --- | --- | --- |
| | | | |
| 48" in Black finish | 48" in White finish | 60" double in Black finish | 60" double in White finish |
---
24" Black with and without optional top
24" White with and without optional top
30" Black with and without top
30" Black with and without top
48" Black with and without optional top
48" White with and without optional top
60" Double Sink White with optional top
60" Double Sink White with optional top
---
Description

Dimensions
Black Painted w/2cm
Carrera Marble
White Painted w/2cm
Carrera Marble
24" vanity base without top

22-7/8" x 21-1/4" x 35-1/4"

VAN057-NT
VAN094-NT
24" vanity with top & bowl installed

24" x 22" x 36"

VAN057-T-MW
VAN094-T-MW
Mirror for 24" vanity

20" x 24" (beveled glass)

MIR057
MIR094
30" vanity base without top

28-7/8" x 21-1/4" x 35-1/4"

VAN057-30-NT
VAN094-30-NT
30" vanity with top & bowl installed

30" x 22" x 36"

VAN057-30-T-MW
VAN094-30-T-MW
Mirror for 30" vanity

30" x 24" (beveled glass)

MIR057
MIR094
48" single vanity base without top

46-7/8" x 21-1/4" x 35-1/4"

VAN057-48-NT
VAN094-48-NT
48" single vanity with top & bowl installed

48" x 22" x 36"

VAN057-48-T-MW
VAN094-48-T-MW
Mirror for 48" single vanity
42" x 28" (beveled glass)
MIR057D
MIR094D
60" double vanity base without top

58-7/8" x 21-1/4" x 35-1/4"

VAN057D-60-NT
VAN094D-60-NT
60" double vanity with top & bowl installed
60" x 22" x 36"
VAN057D-60-T-MW
VAN094D-60-T-MW
Mirror for 60" vanity
20" x 24" (beveled glass)
MIR057
MIR094
---
Models:
VAN057-NT, VAN094-NT
VAN057-T-MW, VAN094-T-MW
VAN057-30-NT, VAN094-30-NT
VAN057-30-T-MW, VAN094-30-T-MW
VAN057-48-NT, VAN094-48-NT
VAN057-48-T-MW, VAN094-48-T-MW
VAN057D-60-NT, VAN094D-60-NT
VAN057D-60-T-MW, VAN094D-60-T-MW



*Read Important Shipping Information

About MDF for Elements Furniture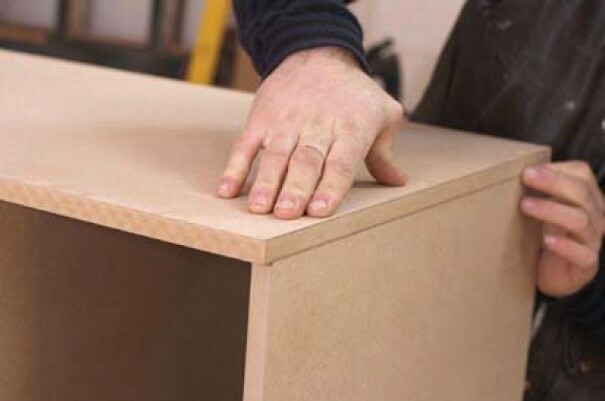 What is MDF?
MDF is an engineered lumber combining wax, resin and wood fibers. The wax providees moisture resistance, while the resin keeps the mixture uniformly dense. This mixture is then pressen in a machine using high-heat and high-pressure to harden and cut into perfectly flat, knot-free sheets.
Since the wood fibers are broken up into such small pieces, they no longer expand and contract like solid wood or particleboard and MDF tends not to split.

MDF is much denser than particleboard and therefore is a stronger material and is commonly used as a preplacement for plywood.

MDF is commonly used in decorative mouldings, doors, furniture and as a component of kitchen cabinets.

Much of MDF comes from recycled content making it more friendly to the environment.
​What is special about the MDF used in Elements Vanities?
MDF meets strict California CARB 2 requirements

MDF is sealed to protect against moisture damage

The finish is applied in multiple layers to add extra protection against moisture damage
​So, what does this mean to you?
It means that the Elements vanity you purchase is not only beautiful, it is also made of a strong, durable, sealed materis that will last for years.