Kreg Hinge Boring Jig
Item # 28040
---
Please Choose Or
Scroll Down For More Info

:
---
---
Kreg Hinge Boring Jig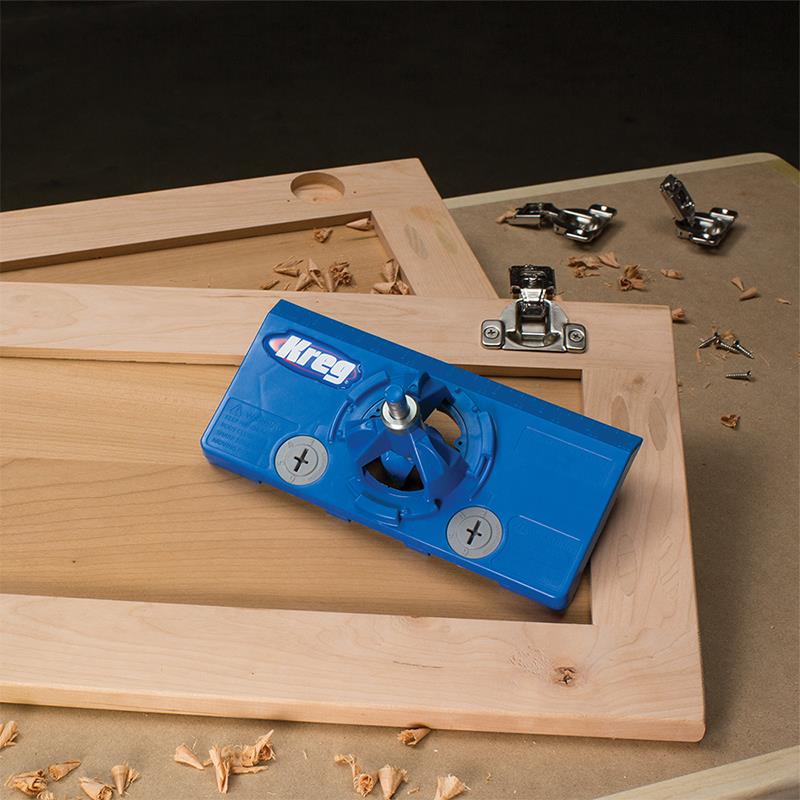 Add shelf pin holes to existing furniture or build custom shelves from scratch...
For boring 35mm cup-style concealed hinges
Hinge offsets: 3mm, 4mm, 5mm & 6mm
Hinge offset from end of door end: 2" to unlimited
Included Drill bit: Four-cutter carbide-tipped with stop collar

Accurate hinge positioning with built-in indexing tabs

Repeatable results with built-in measuring scales

Reliable drilling with bit guide and stop collar
Simple to use with any drill -- no special tools needed
Adjustable cams ensure proper hinge offset
Durable carbide-tipped drill bit included
Strong, lightweight materials for easy handling
Check out this Kreg Hinge Boring Jig video:
Product Description
The Concealed Hinge Jig takes the guesswork out of installing cabinet doors using concealed hinges. This economical, easy-to-use jig ensures accurate hinge alignment, so you can install doors that fit great and work well. Plus, the Concealed Hinge Jig works with an ordinary drill and the included carbide tipped bit.

The Concealed Hinge Jig allows you to drill cup holes for concealed cabinet door hinges (sometimes called "Euro hinges") using just a drill. The jig positions an included carbide-tipped bit exactly at the proper position and offset, and drills to the perfect depth every time thanks to a depth stop collar. The jig is simple to use, and it ensures that you can mount cabinet doors that fit great and work properly.

Concealed hinges are great for mounting cabinet doors because they stay out of sight, they're adjustable, and they work very well. Mounting them, though, requires drilling a large hole at a very specific position and depth. The Kreg Concealed Hinge Jig takes the guesswork out of drilling those holes, and allows you to do it with nothing more than a drill and the carbide-tipped bit that comes with the jig.

Note: A 1/16" bit is required to drill for hinge-mounting screws. Not included.

The Concealed Hinge Jig consists of a glass-filled nylon base with a hole that receives a drill guide. Indexing cams ensure that the jig positions the bit to drill a hole at the required offset—which is dictated by each hinge—and a built-in stop collar ensures that the cup depth is correct every time. There are even holes that you can use to guide a bit for hinge screw holes. The Concealed Hinge Jig comes with a high-quality, carbide tipped bit to ensure great results.

The Concealed Hinge Jig is designed to be intuitive for beginners to use, but robust enough for professionals. Just pick out your hinges, look up a few basic mounting instructions that come with them, and then set up the Concealed Hinge Jig by adjusting a pair of built-in cams. After that, you're set to drill hinge cup holes using any ordinary drill. Whether you're installing one cabinet door or making doors for an entire kitchen, the Concealed Hinge Jig provides reliable, consistent results.
Explore the versatility with the Kreg Shelf Pin Drilling Jig

Accurate boring results
Easily adjustable offsets
For 35mm cup-style hinges
Carbide-tipped 35mm hinge bit
Model: KTKHI-HINGE
Set Includes:
(1) Jig base with index cams, (1) drill guide, (1) 35mm carbide-tipped drill bit, (1) Stop collar with Hex wrench and owners manual
Download Manual