Custom Painted Floating Shelves
Sleek and versatile, floating shelves are a modern design element gaining popularity, well beyond the kitchen. Use them for clean-lined storage in the kitchen or bath or to display treasured family pictures and accessories in all areas of the home. Our floating shelf system features a strong and sturdy mounting bracket that when installed, is concealed by an attractive outer casing that simply slides over the bracket. A couple of pin nails or brads and your shelf is sure to stay where it's installed.
Offered in Cherry, Hard Maple, Paint Grade Hard Maple and Red Oak, floating shelves are available unfinished, or finished in our complete array of wiping stains, Truetone, Colourtones and Prism Paints. Measuring 2-1/2" thick, 10" deep and in lengths from 30" to 60", these functional shelves are an attractive way to add a modern flair to any home's interior decor.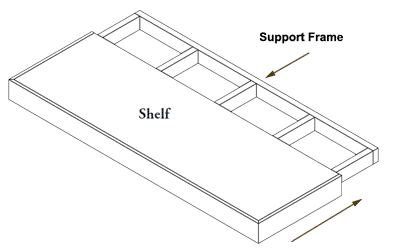 Each floating shelf consists of an inner support frame and an outer shelf that slides into place over the support frame, the two elements are not sold individually.
Support frame
Manufactured using 3/4" thick unselected hardwoods.
Available in five widths between 30" and 60", it is imperative that Floating Shelves be
mounted to two or more wall studs using four or more course thread screws at least
2-1/2" in length. 60" Floating Shelves should be mounted to three or more studs
Shelf
The front and sides of the shelf are made from 3/4" solid hardwoods, mitered at the
two front corners
The shelf top and bottom is 3/8" thick plywood, matching the specie of the hardwood.
Shelf thickness/height is 2-1/2"
Shelf depth is 10"
Once the Floating Shelf is fully installed, it is recommended that the shelf be secured
to the support frame using headless pins or small finishing nails so the shelf cannot
inadvertently slide off of the support frame.
Floating shelves are availble unfinished, stained or painted.

Select Your Floating Shelf Length

(30", 36", 42", 48" or 60")

Select Your Colourtones Paint Color
Pictures below are representative of the Colourtone Paints and glaze combinations available.
Consider ordering a sample of your finish color/wood combination.
Colourtones Paint Finishes
(Click on picture for larger image)
Antique White
Burgundy
Cadet Grey
Chesapeake
Creamy Butter
Crystal White
Designer White
Ebony
Ebony on Red Oak
Frosty White
Hearthstone Grey
Metropolitan Grey
Sage
Sandstone
Slate Blue
Colourtone Paint Finishes with Glaze
(Click on picture for larger image)
Burgundy/
Coffee Glaze
Cadet Grey/
Caramel Glaze
Cadet Grey/
Chai Glaze
Cadet Grey/
Coffee Glaze
Cadet Grey/
Oyster Glaze
Cadet Grey/
Pewter Glaze
Cadet Grey/
White Glaze
Chesapeake/
Caramel Glaze
Chesapeake/
Coffee Glaze
Chesapeake/
White Glaze
Creamy Butter/
Chai Glaze
Creamy Butter/
Coffee Glaze
Creamy Butter/
White Glaze
Crystal White/
Caramel Glaze
Crystal White/
Chai Glaze
Crystal White/
Coffee Glaze
Crystal White/
Oyster Glaze
Crystal White/
Pewter Glaze
Designer White/
Coffee Glaze
Designer White/
Oyster Glaze
Designer White/
Pewter Glaze
Frosty White/
Chai Glaze
Frosty White/
Coffee Glaze
Frosty White/
Pewter Glaze
Hearthstone Grey/
Coffee Glaze
Hearthstone Grey/
Pewter Glaze
Metro Grey/
Caramel Glaze
Metro Grey/
Chai Glaze
Metro Grey/
Oyster Glaze
Metro Grey/
Pewter Glaze
Metro Grey/
White Glaze
Sage/
Coffee Glaze
Sage/
Pewter Glaze
Sage/
White Glaze
Sandstone/
Coffee Glaze
Sandstone/
Pewter Glaze
Sandstone/
White Glaze
Slate Blue/
Coffee Glaze

Select An Optional Glaze Color if Desired
See choices in Step Two above

While floating shelves are built from strong, sturdy materials, the load capacity of these shelves is greatly dependent on the quality of the installation sccrews and whether the shelves are secured into the wall studs. If not secured into two or more studs using high quality installation screws, the shelf may not support the desired weight. We will not be responsible for shelf failure due to inadequate installation techniques or materials.Special Note:
Normal lead time applies to these shelves.