Blum Aventos HK Lift System Hardware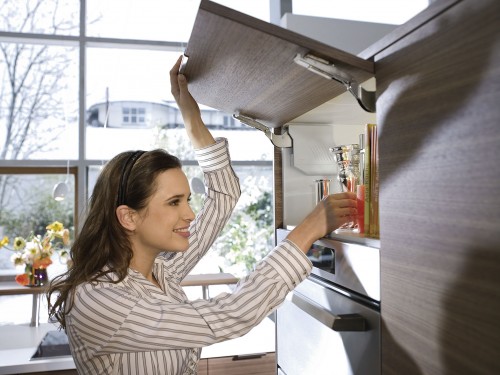 Aventos HK Telescopic Arm
Aventos HK is Blum's new stay lift system for upper cabinets. With Aventos HK, the door front lifts up. Applications include above refrigerator, accent cabinets or wall cabinets. This stay lift system opens easily, remains in any position and closes silently and effortlessly thanks to Blumotion.
All kits have integrated Blumotion soft-close feature
Quick, easy assembly and removal
Easy 3-dimensional door adjustment
Integrated tension adjustment for door weight
Extremely durable
Works for both face frame and frameless cabinets
Provides clearance for decorative moldings
Designed for cabinet widths up to 48"
Door height range from 9-7/16" to 24"
Aventos HK Lift System is available in four "Power Factor" Models:
Power Factor 43 - 99 (Model B20K2300.N5K)
Power Factor 100 - 174 (Model B20K2500.N5K)
Power Factor 175 - 349 (Model B20K2700.N5K)
Power Factor 350 - 792 (Model B20K2900.N5K)
Calculate Power Factor required by using this formula:
Door weight + (Handle/pull weight x 2) = Subtotal x Door height = Power Factor

Example: For an 8 lb door that is 18" tall with an 8 oz handle, then 8lb + (8oz x 2) = 9lb x 18" = 162
Hardware kit (sold separately) - Select the appropriate hardware kit from the pulldown menu. You can select the Aventos Wood Door Kit (and wide aluminum) or the Narrow Aluminum Kit
Screws and Instructions Included


Special Handling Charges for Oversize Doors
Shipping companies do charge extra for "oversize" pagages or packages that exceed certain lengths or other measurements.
If your product is going to incur additional charges, we will get a shipping quote prior to finalizing your order. The shipping shown on your order may or may not include these "oversize" charges. We will notify you prior to placing your order in production.
FedEx Oversize Packages
Packages that weigh 150 pounds or less and exceed 108 inches in length or 130 inches in girth (2 x width) + (2 x height) are considered "oversize" packages. Oversize packagesare rated based on the greater of the package's actual rounded weight or dimensional weight. In addition, an oversize package surcharge applies.
UPS Oversize Packages
A Large Package Surcharge will be applied to each UPS package when its length plus girth [(2 x width) + (2 x height)] combined exceeds 130 inches, but does not exceed the maximum UPS size of 165 inches. Large Packages are subject to a minimum billable weight of 90 pounds in addition to the Large Package Surcharge.
If you have any specific questions, let us know or refer directly to the carrier websites for more information.