Custom Sized Recessed Back or Under-Sink Drawer
Here is the answer to putting a drawer or pullout/rollout shelf under a sink or where you have pipes or other obstructions in your cabinets. Call it whatever you like, U-shaped drawer, under sink drawer, horseshoe shaped drawer or recessed back drawer but use it...it works great!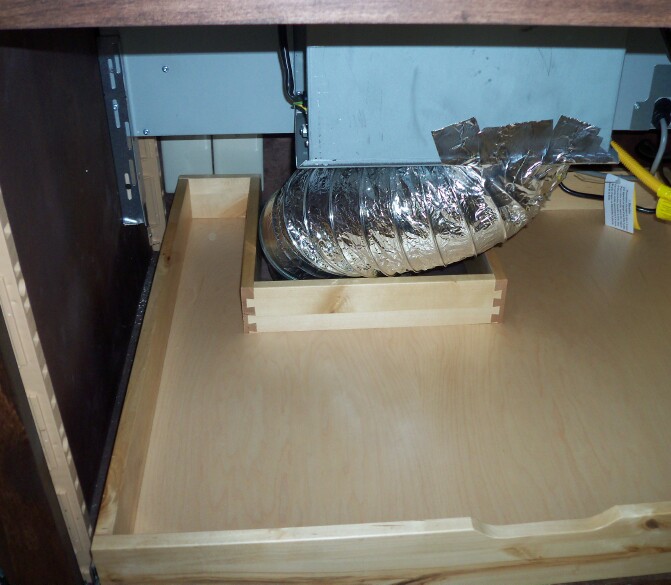 Installation under cooktop (click to enlarge)
Minimum box width is 12"
Must specify "A", "B" & "C"

(To nearest 1/16")

Natural Birch is available finished only (select

No

for finish color).
Priced per cubic foot, plus design charge as shown in options above (1 cu ft min)
Available with 1/4" or *3/8" bottom (see notes below)
Horseshoe or "U"-shape drawer specification illustrations
(Click on either image below for larger image)
Typical Recessed or "U"-shaped drawer
Dimensions needed for order
A or B minimum is 4"
The result of width minus A & B must be 4" minimum
As viewed from open top side
All drawer box heights come in 1/2" increments ONLY, from 2" to12-1/8"
*When ordering the 3/8" bottom thickness option, you MUST select height size increments in 1/8". Example: 2-1/8" or 2-5/8" or 3-5/8". Even inches or 1/2" fractions are NOT valid with 3/8" bottom. Example: 2" or 2-1/2", will NOT work with 3/8" bottom.
If you order 3/8" bottom thickness, we WILL adjust your order up by 1/8" if needed.
Custom drawer products lead time is approximately 10-12 work days and may fluctuate with production loads.
Slides sold separately