Blumotion 39C Compact Hinge by Blum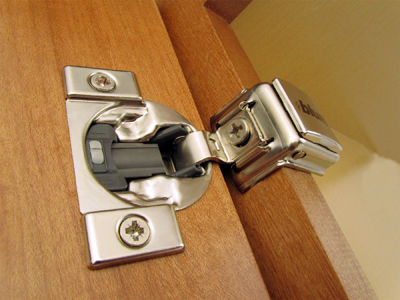 ---
When You Buy
You Save*
12
5%
50
15%
300

30%

*Discounted price will be shown in your shopping cart
Specifications:
Compact One Piece European hinge with built-in Blumotion
Mounting plate and the hinge are combined into one unit
Blumotion soft closing mechanism, allows the cabinet door to close softly
This hinge may be used to replace any compact one piece European hinge that is installed with the following:

the same overlay dimension
a bore distance of 1/8" (3mm) (the bore distance is the distance between the edge of the door and the edge of the cup drilled in the back of the door)
a cup diameter of 35mm (1-3/8")
1/2" cup depth

This hinge features:

Overload safety feature (protects the soft close mechanism if the door is slammed)
Deactivation switch for small or light doors allows one of the hinges to be deactivated for less dampening action per door

Hinge is 6-way adjustable after installation..
Screws are included
| | | |
| --- | --- | --- |
| Model | Overlay | Press-In or Screw-On |
| 355B.16 | 1" | Screw-on |
| 355B.20 | 1-1/4" | Screw-on |
| 355B.21 | 1-5/16" | Screw-on |
| 355B.22 | 1-3/8" | Screw-on |
| 355B.24 | 1-1/2" | Screw-on |
| 355B.25 | 1-9/16" | Screw-on |
| 358B.16 | 1" | Press-In |
| 358B.20 | 1-1/4" | Press-In |
| 358B.21 | 1-5/16" | Press-In |
| 358B.22 | 1-3/8" | Press-In |
| 358B.24 | 1-1/2" | Press-In |
| 358B.25 | 1-9/16" | Press-In |
When changing hinges on your door, you should change all of the hinges. Mixing different types or brands of hinges will cause door binding problems.
Special Note: Certain beveled edge profiles and other cut down edge designs cannot be used with these hinges as they may interfere with the cup. 3mm inset (tab) is recommended for boring for compact hinges.
---
Do I need Press-on or Screw-on hinges?

Back side of press-on hinge - note the dowels
Back side of screw-on hinge - no dowels
Cabinet door prepared for press-on hinges
Cabinet door prepared for screw-on hinges
Note: The press-on type hinge was developed for the manufacturers as a way to automatically align hinges and place them on the cabinet door in the proper location by just "pressing" them into the holes. The dowels in that case are already mounted. If you are replacing this type of hinge, you can get either type of hinge and either use the new dowels (which are already attached to the hinge) or you can use the screw-on and just use the screws already in your doweled door.
---
Sold each
Minimum purchase 4 each