Compact Soft-Close Hinge 1/2" Overlay
Item # 27844
---
Please Choose Or
Scroll Down For More Info

:
---
---
1/2" Overlay Compact Soft-Close Concealed Hinge
105 Degree Compact Hinge with 6 Way Adjustment
For screw mounted applications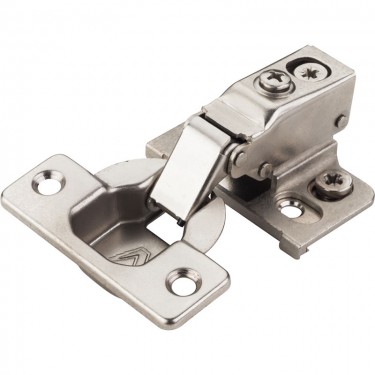 105 degree opening angle, 6 way adjustable
Built-in soft-close damper mechanism is hidden from view
One piece compact assembly with vertical, horizontal and depth cam adjustment
Cold rolled steel construction and zinc die cast plate with nickel plating
Die cast face frame plate securely grasps the face frame and provides two attachment points
#7 x 5/8" flat-head wood screws recommended for plate installation
Guaranteed to surpass all ANSI, BHMA & KCMA requirements
Face frame application only
Screw On - No Dowels
---
Do I need Press-on or Screw-on hinges?

Back side of press-on hinge - note the dowels
Back side of screw-on hinge - no dowels
Cabinet door prepared for press-on hinges
Cabinet door prepared for screw-on hinges
Note: The press-on type hinge was developed for the manufacturers as a way to automatically align hinges and place them on the cabinet door in the proper location by just "pressing" them into the holes. The dowels in that case are already mounted. If you are replacing this type of hinge, you can get either type of hinge and either use the new dowels (which are already attached to the hinge) or you can use the screw-on and just use the screws already in your doweled door.
---
Boring information:
Bore or "Tab" location is 5mm from edge. Pattern shown below is for use with dowels. Use same pattern without the smaller dowel holes for hinges using wood screws.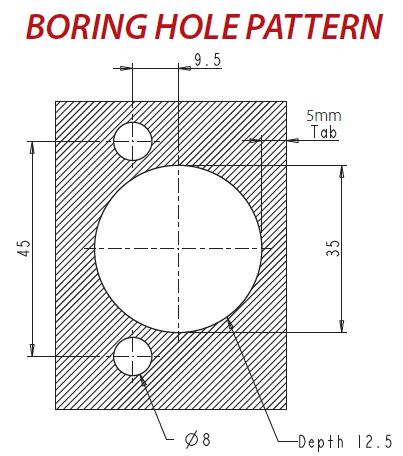 (Click to enlarge)
22855-10SFT
Sold Each
Minimum order 4 hinges
"How to" page for calculating hinge overlay
Questions? Visit the Cabinet Hinge Glossary