Vitus Concealed Soft Close Hinge
Item # 12347
---
Please Choose Or
Scroll Down For More Info

:
---
Starting at: $3.44 / Each
---
Concealed Cabinet Door Hinge With Built In Soft Close Mechanism
Finally! An integrated soft close cabinet door hinge that is priced right and is easy to install.
If you are already familiar with using a clip top hinge, you will love this new cam adjustable hinge that is as easy to install as the standards that you are familiar with.
Check out these great benefits:
Built-in soft close dampers bring doors to a soft and quiet close
110° opening angle
Available as "press-in" w/8mm dowels or "screw on"
Hinge and plate together provide 6 way adjustment (3 dimensional)
Clip-on base plates available for a wide variety of European and face frame applications
Cam adjustable plates allow full cam adjustment
Cold rolled steel construction with nickel plating
Tested beyond 100,000 cycles - Guaranteed to surpass all ANSI, BHMA & KCMA requirements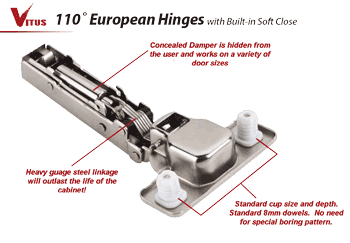 ---
Do I need Press-on or Screw-on hinges?

Standard hinge installation screws work well in solid wood stock and plywood, but screws lose strength in medium density fiberboard (MDF) or particleboard. If your cabinet doors or cases are made from these materials, you may want to choose hinges that include barbed plastic inserts that fit in predrilled holes. Tightening the installation screw pushes each dowel against the wall of the hole for a firm grip.

Back side of press-on hinge - note the dowels
Back side of screw-on hinge - no dowels
Cabinet door prepared for press-on hinges
Cabinet door prepared for screw-on hinges
Note: The press-on type hinge was developed for the manufacturers as a way to automatically align hinges and place them on the cabinet door in the proper location by just "pressing" them into the holes. The dowels in that case are already mounted. If you are replacing this type of hinge, you can get either type of hinge and either use the new dowels (which are already attached to the hinge) or you can use the screw-on and just use the screws already in your doweled door.
---
Mounting plates are conveniently offered with the hinges:
Choose your overlay from the pulldown menu above
0mm for 5/8" overlay (600.3553.65) for face frame cabinets
3mm for 1/2" overlay (600.3554.65) for face frame cabinets
0mm for 3/4" overlay (600.0R22) for frameless cabinets
2mm for 1/2" overlay (600.0R24) for frameless cabinets
Combine the 9mm crank hinge with the 0mm plate for 1/4" overlay
Use 15mm crank hinge with the 0mm plate for an inset hinge
Hinges and mounting plates are sold each (one hinge and one mounting plate)
"Screw on" hinges and mounting plates shipped with or without screws. "Press in" hinges have dowels and screws pre-installed.
Minimum order 2 each
Model 700 series