Vitus 170° Clip On Hinge
Item # 600
---
Please Choose Or
Scroll Down For More Info

:
---
---
170º Hinge set for pie corner door application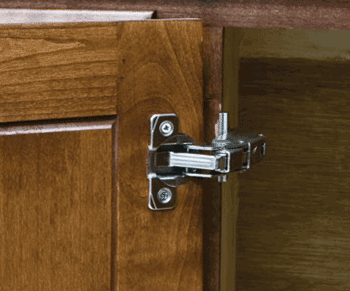 Here's the hinge you need to install a wide opening door for use in a corner application or if you just need a cabinet door to open wide. The charts for calculating door sizes are below.
Three models to choose from
Full Overlay
Heavy Duty
Built-in Soft Close
Full overlay standard 170° hinge (500.0M73.05) -- Providing years of service under normal operating conditions.
The full overlay heavy duty 165° hinge (900.0M73.05) -- Featuring a unique "metal plate" construction which is ideally suited for commercial and casework applications with heavier doors and heavier use.
The Full overlay soft-close 165° hinge (700.0M73.05 -- State of the art in soft-close corner applications and will be sure to satisfy your customers desiring a cushioned close.
Specifications:
Hinge and plate provide 6-way adjustments (3 dimensional)
Cold rolled steel construction with nickel plating
Guaranteed to surpass all ANSI, BMHA & KCMA requirements
---
Use this diagram with the charts below
Using the 170° hinge with the "Pie Corner" hinge
Use table below to calculate minimum reveal (F)
Use table below to calculate door overlay (X)
Boring pattern measurements & locations
Formula for calculating door widths for use with 170° hinge

How to calculate door sizes when using the 170 degree hinges and pie corner hinges

With the 170° hinge, using a 0mm face frame mounting plate and the boring placed at 5mm from edge of door (tab), the standard overlay will be 18mm, just under 3/4".

How to figure door widths:

CO = cabinet opening

OL = door overlay (always 18mm for hinge side)

DT = door thickness

DW = door width

CO + OL - DT = DW
Sold each
Minimum purchase 2