Blum Long Arm Hinge Swing Restrictor
Item # 27032
---
Please Choose Or
Scroll Down For More Info

:
---
---
Blum Clip-on or Long Arm Hinge Restriction Clip
This is a great solution to prevent doors from opening into walls or other cabinets, if the cause is the door swinging too wide.
Designed to work with the Blum 110 degree Long Arm or Clip On Hinges, these Restrictor Clips limit the opening angle of the door to 86 degrees
Ideal for corner cabinets, adjacent cabinets whose doors open against one another, or any other cabinet where obstacles near the door would be damaged by the knob during opening.
Simply clip it on and put an end to your worries about damaging your cabinet doors.
Technical Details:
Restrictor clip limits opening angle of door to 86 degrees.
Made of plastic
Easy clip-on installation
Use one clip per hinge
Use only with the Blum 110 degree Clip On or Long Arm hinge
---
When You Buy
You Save*
12 to 25
10%
26 to 50
20%
51 to 99
25%
100 or more
35%

*Discounted price will be shown in your shopping cart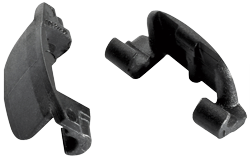 How the Blum compact hinge restrictor clip is installed...


(Follow same instructions as shown below with the Blum 38N compact hinge)
Sold Each
Miminum order 4