Vitus 110 degree Long Arm Hinges (std)
Item # 128
---
Please Choose Or
Scroll Down For More Info

:
---
Starting at: $2.07 / Each
---
110º Vitus Concealed Long Arm Hinge
These full overlay 110° degree hinges with their mounting plates (sold separately) can be used in either a frameless cabinet or on face frame cabinet . These high quality hinges just clip on to the mounting plates which are mounted on the cabinet. This makes placement and removal of the doors extremely convenient. The Vitus or Lama standard 110° hinge is normally interchangeable with the Jfh 110° hinge.
| | |
| --- | --- |
| Quantity | You Save |
| 25 | 5% |
| 100 | 15% |
| 200 (case) | 35% |
This hinge requires a mounting plate.
The 9mm crank hinge can be used with the 6mm mounting plate on frameless cabinets to hang inset doors, or the 15mm can also be used with a 0mm frameless hinge mounting plate for inset applications.
The 9mm crank hinge can be combined with the Vitus 400.3458.65 hinge mounting plate to provide inset mounting on a face frame cabinet.
What the heck is "hinge crank" and what does it mean to me?
The crank is a measurement of left or right offset built into the hinge arm. There are several hinge cranks: 0mm, 8mm, 9mm and 15mm. The overlay, or overlap, of a cabinet door is reduced by 8mm with an 8mm crank hinge, 9mm with an 9mm crank hinge, 15mm with a 15mm crank hinge utilizing a 0mm mounting plate. Using this scenario, 0mm would be considered neutral or flat with a full overlay hinge. Changing the mounting plate from a 0mm to a 3mm or 6mm mounting plate would reduce your overlay or overlap by an additional 3mm or 6mm. The hinges other than the 0mm crank are easily recognized by the "hump" that creates the 8mm, 9mm or 15mm offset (see pictures below). Most traditional cabinets use a 0mm hinge crank unless you are mounting an inset door or have another special application.
Hinge crank examples


(Does your hinge look like one of these?)

0mm crank
9mm crank
15mm crank
Hinge Boring Pattern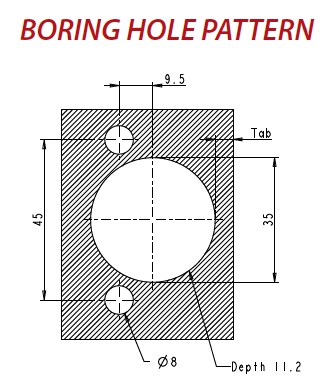 ---
Do I need Press-on or Screw-on hinges?

Standard hinge installation screws work well in solid wood stock and plywood, but screws lose strength in medium density fiberboard (MDF) or particleboard. If your cabinet doors or cases are made from these materials, you may want to choose hinges that include barbed plastic inserts that fit in predrilled holes. Tightening the installation screw pushes each dowel against the wall of the hole for a firm grip.

Back side of press-on hinge - note the dowels
Back side of screw-on hinge - no dowels
Cabinet door prepared for press-on hinges
Cabinet door prepared for screw-on hinges
Note: The press-on type hinge was developed for the manufacturers as a way to automatically align hinges and place them on the cabinet door in the proper location by just "pressing" them into the holes. The dowels in that case are already mounted. If you are replacing this type of hinge, you can get either type of hinge and either use the new dowels (which are already attached to the hinge) or you can use the screw-on and just use the screws already in your doweled door.
---
Mounting plates sold seperately.
Sold each
Minimum order 4
"How to" page for calculating hinge overlay
Questions? Visit the Cabinet Hinge Glossary
Special Handling Charges For Oversize Products
Shipping Companies Do Charge Extra For "Oversize" Packages Or Packages That Exceed Certain Lengths Or Other Measurements.
If Your Product Is Going To Incur Additional Charges, We Will Get A Shipping Quote Prior To Finalizing Your Order. The Shipping Shown On Your Order May Or May Not Include These "Oversize" Charges. We Will Notify You Prior To Placing Your Order In Production.
FedEx Oversize Packages
Packages That Weigh 150 Pounds Or Less & Exceed 108 Inches In Length Or 130 Inches In "Girth" ((2 x width) + (2 x height)) Are Considered "Oversize" Packages. Oversize Packages Are Rated Based On The Greater Of The Package's Actual Rounded Weight Or Dimensional Weight. All Oversize Packages Will Have A Minimum Billable Weight Of 90 Pounds In Addition To Any Oversize Package Surcharge(s). As of 2020, This Surcharge Will Be $120 Per Oversize Package.
Fedex Peak Oversize Package Surcharge
During Peak Shipping Season (10/21/xx until 1/5/xx), Any Package Shipped During This Period Will Incur An Additional "Peak Oversize" Charge Of $37.50 Per Oversize Package.
UPS Oversize Packages
A Large Package Surcharge Will Be Applied To Each UPS Package When Its Length Plus "Girth" ((2 x width) + (2 x height)) Combined Exceeds 130 Inches, But Does Not Exceed The Maximum UPS Size Of 165 Inches. Large Packages Are Subject To A Minimum Billable Weight Of 90 Pounds In Addition To Any Oversize Package Surcharge(s). As Of 2020, This Surcharge Will Be $115 Per Oversize Package.
Address Changes For FedEx & UPS
Both FedEx & UPS Charge For Address Changes & Corrections. The Charge For An Address Change Is A Minimum Of $16.00 As Of 1/1/2019. Please Check Your Shipping Address On Your Order Confirmation To Insure That It Is Correct. The Cabinet Guy/QuikDrawers Is NOT Responsible For Incorrect Addresses.
If You Have Any Specific Questions, Let Us Know Or Refer Directly To The Carrier Websites For More Information.