Vitus 125° Hinges
Item # 317
---
Please Choose Or
Scroll Down For More Info

:
---
Starting at: $2.59 / Each
---
Vitus Concealed 125° Clip On Or Long Arm Hinge
For frameless or face frame style cabinets
These 125° hinges with their mounting plates can be used in either a frameless cabinet or on face frame cabinet if needed. These high quality hinges just clip on to the mounting plates which are mounted on the cabinet. This makes placement and removal of the doors extremely convenient.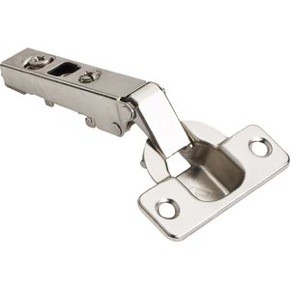 | | |
| --- | --- |
| Quantity | You Save |
| 20 | 10% |
| 100 | 20% |
| 200 | 30% |
---
Do I need Press-on or Screw-on hinges?

Standard hinge installation screws work well in solid wood stock and plywood, but screws lose strength in medium density fiberboard (MDF) or particleboard. If your cabinet doors or cases are made from these materials, you may want to choose hinges that include barbed plastic inserts that fit in predrilled holes. Tightening the installation screw pushes each dowel against the wall of the hole for a firm grip.

Back side of press-on hinge - note the dowels
Back side of screw-on hinge - no dowels
Cabinet door prepared for press-on hinges
Cabinet door prepared for screw-on hinges
Note: The press-on type hinge was developed for the manufacturers as a way to automatically align hinges and place them on the cabinet door in the proper location by just "pressing" them into the holes. The dowels in that case are already mounted. If you are replacing this type of hinge, you can get either type of hinge and either use the new dowels (which are already attached to the hinge) or you can use the screw-on and just use the screws already in your doweled door.
---
This hinge requires a mounting plate.
Mounting plates sold seperately.
Sold each
Minimum purchase 4
"How to" page for calculating hinge overlay
Questions? Visit the Cabinet Hinge Glossary