Table of contents
Choosing Concealed Hinge Mounting Plate
Choosing Replacement Hinge Mounting Plate For Your Concealed Cabinet Door Hinges
If you are one of the millions of customers whose face frame type cabinets use a "long arm" or "clip on", 2 piece hinge such as the jfh hinge or Vitus or Lama or Blum, etc, you will occassionaly have the need to replace either the hinge or the mounting plate. Just follow the instructions below for some handy tips to determine what size mounting plate you need.
The "Long Arm" or "Clip On" Concealed Cabinet Hinge
The long arm or clip on concealed hinge is available from many different manufacturers but they all offer similar features and benefits.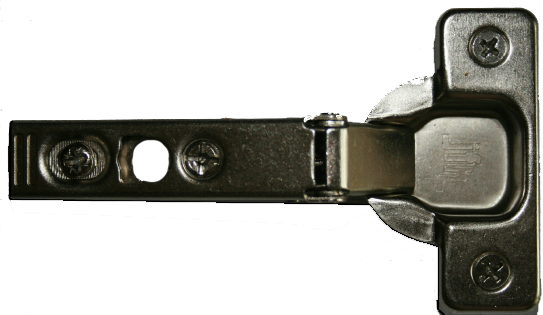 A typicl two piece compact hinge for face frame cabinets requires a special mounting plate
Standard cabinet door overlay range 3/8" to 3/4"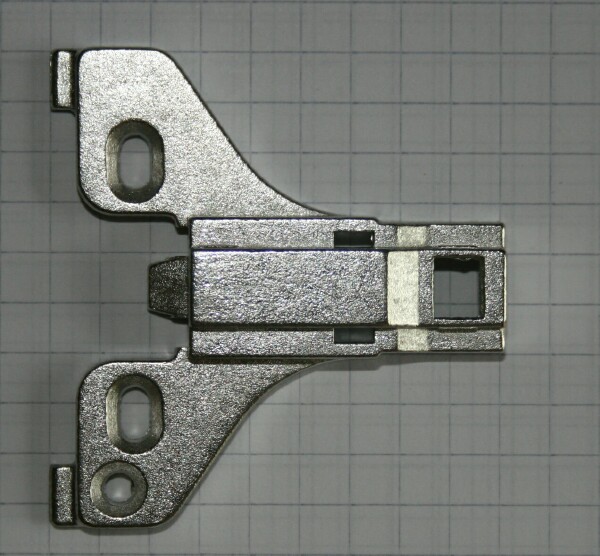 A typical long arm or clip on concealed hinge face frame mounting plate
Available in standard thicknesses of 0mm, 3mm & 6mm
Below show the steps to determine mounting plate and how the long arm or clip on hinge is attached to a typical hinge mounting plate
Steps to determine mounting plate thickness:
Separate the hinge from the mounting plate
Check backside of mounting plate for model number, or
Measure the thickness of the mounting plate as shown
Hinge and face frame mounting plate
Hinge and face frame mounting plate attached
Release button on end of hinge
Hinge with face frame mount attached
Push the mounting plate release button on the end of the hinge
Mounting plate will release and can now be separated from hinge
Some plates will show model number


(click on image to enlarge)

0mm plate measures 1/4"(br />(Model xxx.3653)
3mm plate measures 3/8"(br />(Model xxx.3654)
6mm plate measures 1/2"(br />(Model xxx.3655)
To join the hinge back to the face frame mounting plate, just hook the small fingers on the hinge into the two recesses at the rear of the mounting plate and then pinch the end of the hinge together with the end of the mounting plate until it locks in place.